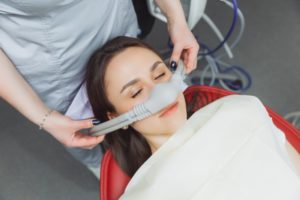 Dental sedation is best known for its ability to curb anxiety so you can relax while getting crucial treatments for your oral health. Many people might think that's all it can do, but there are more pieces to this puzzle. Even if you aren't scared of the dentist's office, sedation dentistry can provide other benefits for a smooth-sailing dental visit. Read on to learn from your Baytown dentist about what else it can do for you.
What Types of Dental Sedation Are There?
Nitrous oxide sedation is the most common. Also called laughing gas, nitrous oxide is a clear, odorless gas you inhale through a mask placed over your nose. As soon as nitrous oxide enters your body, it triggers feelings of relaxation and happiness. Nitrous oxide wears off quickly, so you should be able to drive yourself home soon after your appointment.
Oral conscious sedation involves prescribing you potent anti-anxiety medication that you take prior to your appointment. Then, you have a friend or family member drive you to the dental office, as you'll be deeply relaxed for the rest of the day. You might even fall asleep during your procedure but can be awoken with a gentle nudge. You and your dentist will decide what option best suits your needs.
What Are the Non-Anxiety-Related Benefits of Dental Sedation?
Combating dental anxiety will always be a popular reason to use sedation dentistry, but it's valuable to know how else it could help you:
Sedation options like nitrous oxide fade away quickly after treatment, so you don't have to set aside an entire day dealing with dental matters.
It can reduce pain in your jaw, head, or neck.
Some people prefer not to remember much about their dental treatment. Depending on the type of sedation you get, it can help put the treatment in the past so you aren't thinking about it afterward.
Even while under sedation, you'll still be able to respond to physical touch and verbal commands during the procedure.
Without sedation, it might be necessary to spread some intensive treatments across 2-3 appointments. Since you are so relaxed while sedated, your dentist may be able to finish up in a single visit.
What to Discuss with Your Dentist About Sedation Dentistry
If it sounds like you could benefit from sedation, be sure to talk to your dentist about it. After all, their priority is that you are comfortable and calm during your treatment. They can review your medical history and answer any questions.
If you are deemed a viable candidate, they will review your available options, like oral conscious sedation or nitrous oxide. Finally, they'll provide you with any needed instructions so you are prepared for your upcoming treatment.
For many people, sedation dentistry is the key to a comfortable experience, but not all aspects relate to conquering anxiety. The next time you call to make an appointment, or if you already have one scheduled, just let your dental team know you are interested in dental sedation, and they'll take it from there!
About the Author
Dr. Ashraf Seif has been working for the smiles of his patients for more than two decades. He attained dental doctorates in his native Syria and then at Loma Linda University. A member of the American Dental Association, he has taken continuing education courses in oral sedation, sleep apnea, and dental implants. Dr. Seif offers nitrous oxide and oral conscious sedation. If you are interested in either one, be sure to mention it when you schedule an appointment on his website or call (281) 837-9122.